On this episode of the The Best We Could – a Parenting Manual for our Kids, we discuss changing parenting behavior we picked up from our parents and how we broke two generations of responding with a reflexive "No" before "Yes."
I want to share a story about the patterns that we repeat as parents. And also a pattern of saying no out of hand saying no reflectively or reflexively rejecting. So when I was in my mid twenties I was going over a bridge. And the bridge was under construction and it had those flashing radar signs on it. And all of a sudden I started to notice that the radar sign was flashing 99 and the bridge was. Had those, those concrete barriers on it. So it was much less than the width that it normally would be. It was a four-lane bridge, and now it was only a two-lane bridge, because it had those concrete barriers.
[00:00:11] – Patterns we repeat as parents and reflexive No's
[00:02:03] – My new Honda and my father's rejection of the car
[00:03:32] – Realizing a pattern of generational rejection and reflexive no's
[00:05:12] – Deciding to end the pattern of rejection
[00:08:14] – Identifying the mode of photocopying the behavior of our parents
[00:11:07] – Recognizing other behaviors we reflexively do and pass on
Quotes from the Episode: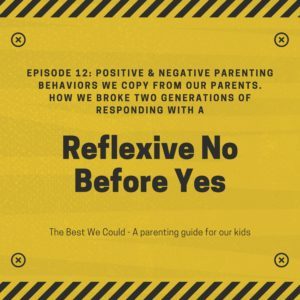 Transcript continues below
And I looked at that sign and it blinked 99 and then I looked up and I saw in my rear view mirror why it was blinking 99 I was hit by a car. Going over a hundred miles an hour in my Volkswagen golf, the Volkswagen golf was pushed through one of those concrete barriers over onto the side of the bridge that was opened up undergoing construction, and that car drove off.
We eventually found who belonged to that car. but the bottom line is that after I had gotten out of the hospital, I turned out to be fine. Had my seatbelt on. It was good. Good deal. Volkswagens are built pretty good back then. And, I survived the car, didn't, I needed a new car.
So I had gone and I went and I got myself a Honda. Not a fancy Honda, middle of the road, Honda, no sunroof, no fancy heated seats or anything like that. Just a good utilitarian car. And my father, of course, had been active throughout this process. You had had. As soon as he realized that I was hurt, he was very interested in engaged.
but when I came home with that car, I did not, I didn't tell him. And he was incensed. He was, he was rejected the car. He's like, that's a, that's a, you know, you shouldn't have gotten that. et cetera, et cetera. And I had this conversation with him recently about this, and. It was interesting because for a few hours he was, he was not happy.
And I was in my mid twenties at this time. Right. but after, you know, maybe two hours, he was interested in knowing about the car. He wanted to make sure I had gotten a good deal on it, asked me questions about it. and, and that was the end of that. But the lesson for me, and I didn't, this was invisible to me at the time, was that I had to be rejected out of hand in order to be accepted later on.
And what I didn't notice at the time, and it took us decades later to figure this out, was that when my dad bought his first new car, because he had bought used cars up until. Up until that point. But he bought a car and it was somewhat of a fancy car as well, but I think I was 14 at the time. I remember that his, he drove it to his father's house and his father rejected him.
His father poo-pooed the car. Right. And then it only lasted maybe a half hour, an hour or something like that. Not to the same extent. From my perspective. But what I noticed is this is, this has happened multiple times before where I'll ask my father something and he'll have to say no before he says yes.
Ultimately, he will say yes if it's something that he can agree to, but even if it is something that he could agree to, he had to say no first. And it's interesting to me that we are kind of photocopiers of. Aspects of our parents' behavior without even noticing it. And so when I had my kid, it took me about two years to realize that I was photocopying the same behavior.
I was doing the same thing. I was rejecting out of hand. I was saying no, yes before bef no first before I would say yes. So I decided that. That behavior was not going to go on past, past me. I was not going to be passing that on to my children. And so it's convenient to say no, especially when your kids are asking you to do stuff or I'm not gonna say it's convenient to reject them because that's not something that's ever convenient.
But what I do. Is, for instance, when my child wants to climb a tree or make a rope, swing on a tree or do something rather than outright saying no, which believe me, sometimes I want to do because sometimes it's just too much. What? What I'll do is I'll, I'll put it back on my son and I'll say something like, all right buddy.
Well, tell me what your plan is here. And then it goes back to him and he gets a chance to explain what it is that he's trying to do, and now I may end up telling him no. Anyway. Oftentimes when he wants to do, when he wants to make these crazy rope swings, it's completely unsafe, completely unsafe, but I'll hear him out anyway.
And then I'll offer a suggestion that is safer. And I'll offer that suggestion with the caveat that, Hey, I can't do this right now, but what if we take this plan, this idea, and we do it in three hours when I'm done doing what I need to be doing right now? Or, or what if we do it tomorrow when it's not raining?
Downpour outside. And. Oftentimes more often than not, number one, my son accepts the counter offer that I've made, but what oftentimes comes out of it is a better project or a better request then would then he came at me with originally. So what I'm saying is by giving him the opportunity to reflect on what his plan is.
He gets the chance to actually improve what it is that he's trying to accomplish. He got rather, he gets a chance to refine what it is that he's trying to accomplish and maybe even make a better goal. Maybe realize that, Oh, Hey, what I'm really interested in is making a better swing. It doesn't necessarily have to be on that tree.
And so out of that actually came a swing set that we made out of some lumber that we got at a, at a local lumberyard. So the bottom line here is that there are a couple things that I'm very aware of in my parenting of my kids, and I hope that this is something that they're going to be aware of too, is number one, identifying the . Nature that we have or the the, the default mode that we have of photocopying the behavior of our parents and just blindly replicating that behavior and then identifying where we might want to cut that out and what actually is beneficial because there are many things that my mother and father have done.
Many behaviors that are beneficial. And that I do replicate with my children, but I think about it and I understand why that is. And by understanding why it's beneficial, it allows me to be more conscious about, Hey, do I want to do this or not? Because there are some things that are beneficial and they're only beneficial situationally.
They're not beneficial all the time, depending on where you are. a behavior may or may not be beneficial. And. In addition, a behavior that's beneficial with a very small child may or may not be beneficial as that kid grows up through all phases of their development. So that's the first thing is, and what's interesting isn't talking with other parents, which I don't get to do a lot.
interestingly, interestingly enough, I had just a small group of. This is interesting, mostly for my kids, but I'm not, a lot of people really want to get into these discussions. So that's the reason. It's not that I don't have contact with a lot of parents, but oftentimes they don't want to discuss these things.
And it's not like I'm proselytizing or, or, you know, pushing a conversation on someone. It's just that, it never goes that deep, which is fine. But the other, the other point is we have, okay,
we have these behaviors that we replicate. Most of the time we don't think about why we're passing them on from generation to generation. By thinking about it, it really affords us the ability to make better choices and those better choices will hopefully result in. Better outcomes, for our kids.
So that's that. I hope that this has benefited you in some way. I'd be interested to know on, this was the other point that I was going to bring up on how we reflectively say no. I think a lot of parents, even though, as I said, we don't go really deep in our conversations. That's one thing that most parents say, man, I wish I could change this.
I wish I could change how I just reflectively say now. And I think that's important, but what I think is even more important is recognizing all the other things that we reflexively do, that we're passing on to our kids as behaviors they are going to do by default with their kids, and then figure out how we can, how we can improve that as a, as time goes on.
So that's it. If you have any questions, please let me know. Send me an email and we'll see you in the next show.